Mercury
Mercury as revealed by MESSENGER.
Diameter
4,880 km
3,032 miles

moons =0

Size
Ranked 8th in the Solar System
Mercury is the closest planet to the Sun and it is the smallest planet in the Solar System. Mercury has no atmosphere, because of the surface temperatures are about 427°C (800°F).
Mythology
Edit
The Romans named the planet after the swift-footed Roman messenger god, Mercury (Latin Mercurius), which they equated with the Greek Hermes, because it moves across the sky faster than any other planet.
The orbit of Mercury is the most eccentric of the planets in our Solar System. The planet has an orbital period of 87.969 Earth days.
The surface of Mercury is marred by an impressive number of craters. The cratering is deeper than on most terrestrial planets because of its lack of an atmosphere. A thicker atmosphere would have slowed impacting bodies, making the craters more shallow.
Exploration
Edit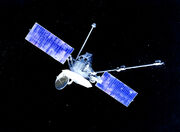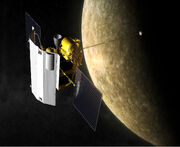 Two spacecraft have visited Mercury: Mariner 10 flew by in 1974 and 1975; and MESSENGER, launched in 2004, orbited Mercury over 4,000 times in four years, before exhausting its fuel and crashing into the planet's surface on April 30, 2015.
Ad blocker interference detected!
Wikia is a free-to-use site that makes money from advertising. We have a modified experience for viewers using ad blockers

Wikia is not accessible if you've made further modifications. Remove the custom ad blocker rule(s) and the page will load as expected.